Jon Seda (born Jonathan Seda) was born on October 14 1970 in New York City (Manhattan), New York.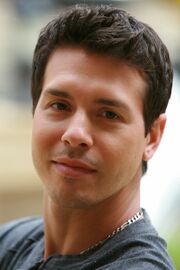 He has stared in many films some of which include: Bad Boys II (2003), Bullet to the Head (2012), Twelve Monkeys (1995), Primal Fear (1996), Selena (1997). Also he has been in many notable TV shows which include: Homicide: Life on the Street (46 episodes), Oz (3 Episodes), House M.D. (Guest role 1 episode) and The Pacific (Miniseries).   
  As of January 2014 he has stared on the NBC drama series Chicago PD.   

Seda began boxing before his career in acting started. His first role actually was in the movie Gladiator (1992) which is centered in boxing.      
Ad blocker interference detected!
Wikia is a free-to-use site that makes money from advertising. We have a modified experience for viewers using ad blockers

Wikia is not accessible if you've made further modifications. Remove the custom ad blocker rule(s) and the page will load as expected.